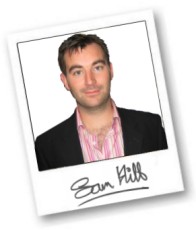 Website for: Sam Hill
Just who is Sam Hill anyway?
Sam Hill is a proactive and hands-on experienced IT Professional with a proven strategic, architectural, management, and development track record.

Sam has been developing computer software for over 16 years, and has great experience of working on projects with budgets ranging from just £1 to £2.5million and everything in-between. An expert in most software development languages (primary choices are Java, PHP and C# (with .Net)) and experience of working with and managing teams of upto 40 developers.

Sam started out in Software development in 1992, creating games and a variety of different business desktop applications. Including a brief spell in the summer of 1998 in publishing, creating rendering engines converting SGML documents into PDF, Word and printshop templates.

Spotting that being online was rapidly becoming the way forwards, in 1999 Sam moved to the fast pasted Internet and Telecoms sector holding a number of senior roles (including Development Manager and Development Director). Sam worked building, growing and helping to transform a number of the UK's largest ISPs and telecoms providers into profitable, multi-award winning businesses. Companies worked for included: NetDirect, Ision, energis, NDO and finally Namesco.

In 2007, a change of direction was needed and Sam switched to working for Complinet in the Financial Services sector; an area some may find quite dry but Sam finds fascinating. He is currently Head of Technical, managing a large team of architects, developers and testers both in the UK and India; producing bespoke solutions around regulation compliance and policy management for most of the worlds leading financial institutions. This work lead to Sam winning "Manager of the Year" in April 2008.

To view Sam's career history in more detail or to contact regarding opportunities, please use LinkedIn.
Welcome to my Website
This website has taken a number of forms since it first launched on 15th September 1997. Its crowning highlight was probably being featured ironically on TV, on Channel 5 in 1999. Now well into its 11th year online, its had a bit of a crash diet and all pages that haven't been updated for a long, long time rather than being dusted off have been removed. Various internet archive sites probably still have traces of them somewhere... Thank you for visiting.


So what is there on here?
One thing that might be of interest are my Research Paper on Kohonen Network's - what are they and how they work. Its a bit out of date and things have been advanced since I wrote it but it's always worth a look.

Another page kept because wikipedia links to it - its my brief research into the orgins of the phrase: What the Sam Hill...?